Globalization that Works
Damon Mathews on Globalization…
With over 3/4 of the world's population living in developing countries high in poverty and unemployment it is the task of the United States, along with the free world, to lead the way to a time of unprecedented growth akin to the period between 1948-1973, this time, raising all ships to a new level of prosperity managed in such a way as to create the conditions and opportunity for the greatest amount of people to be lifted out of unemployment and poverty, while at the same time halting, then reversing climate change.
Free Trade, Bi Lateral Free Trade or "Protectionism"
Damon Mathews…
Will the bilateral free trade agreements standardize protections for labor in the home country or globally?
Will/Can bilateral trade agreements create an inclusive free trade zone for countries wishing to adhere to fair trade practices?
Can a country with protectionist trade policies compete with a united free trading block of countries with a higher total GDP where the protectionist country's goods are tariffed within the free trade zone?
Women stand to gain from the Trans-Pacific Partnership
Taiwan's recent election of Tsai Ing-wen to the presidency was a reminder that Asia is undergoing an overdue change. Whether it is through concerted efforts like Japan's "womenomics" initiative or inevitable demographic shifts, more women in Asia are taking leadership roles and joining the workforce. Congress has the opportunity to speed up this process and unleash new opportunities for millions of women by approving the Trans-Pacific Partnership agreement.
Tucked away in the development chapter of TPP is a short section on women's empowerment and economic growth. Recognizing the importance of women's contributions to economic growth and development, the section calls on participating countries to undertake a number of cooperative activities to help women access the benefits of the agreement.
The inclusion of this language is not simply a nod to lofty development goals. Women's empowerment is essential to unlocking the region's full economic potential. In a 2015 report, McKinsey estimated that if women's labor force participation equaled that of men, it would generate a total of $11 trillion additional dollars in annual GDP for the Asia-Pacific region. This statistic speaks volumes about the economic potential of empowering women in the Asia-Pacific region and the role TPP could play.
Economic insecurity is an inescapable cycle for many women in the Pacific, due to employment discrimination compounded by a lack of education. With this in mind, women from both developing and developed TPP economies stand to benefit from this deal.
As business owners, women will benefit from expanded opportunities to sell their products online, as well as less red tape and simpler customs procedures.
As consumers and household heads, women will gain from a wider selection of products and lower prices resulting from the elimination and reduction of tariffs on thousands of products.
As workers, women will benefit from commitments on worker rights, including the right to bargain collectively and form unions, as well as provisions on improved labor conditions, including a minimum wage and strengthened safety conditions in the workplace. They will also secure additional protections through commitments prohibiting employment discrimination and forced labor.
As mothers, women will be able to provide their children a greener and less polluted world through the agreement's groundbreaking environmental provisions that safeguard oceans, fishing, forests and wildlife protection.
For the next generation, women will leave a better world as the closer regional economic ties promoted by the TPP will help to advance peace and stability in the region and foster vastly improved market access.
The TPP will of course present challenges and require adjustments for each economy and its citizens, including for women. But the agreement ultimately seeks to soften these challenges and provide for smooth implementation, through mechanisms such as phased-in transition periods for certain commitments and safeguard provisions to respond to potential import surges.
Moreover, women are known to more readily embrace change and have proved particularly resilient as they seek a more inclusive economy. The journalist Hannah Rosin argues in her well-known and controversial book, The End of Men, that women are more flexible and adaptable and thus perfectly suited to the demands of the modern industrial age. As Rosin observes, women in India are learning English faster than men to adapt to the needs of a more internationalized economy. In China, women have embraced the rise of a commercial economy, taking ownership of more than 40 percent of the nation's burgeoning private businesses. And a recent World Bank report notes that over 50 percent of the Asia-Pacific region's small and medium enterprises — a critical sector of the economy that TPP will further boost — have a female owner.
A final point to remember is that women played a prominent role shaping TPP. As a senior negotiator for the U.S., I was often struck by the number of female delegates at the table. One-third of the 12 chief negotiators were female, as were many of the lead issue negotiators and their teams. These women are already climbing up the ranks of their governments and some will undoubtedly join the senior ranks of the private sector in the years ahead. As they reach senior positions, we expect them to make further contributions to economic growth and development, building on the vast benefits that TPP will provide.
The concrete benefits and the improved opportunities resulting from TPP will lead to improved economic livelihood and a brighter economic future for women in this region that will pay dividends to generations to come. It is critical that Congress approve the deal for these benefits to be recognized.

http://thehill.com/blogs/congress-blog/foreign-policy/267935-women-stand-to-gain-from-the-trans-pacific-partnership
Obama officials weighing 'appropriate time' for trade bill push
Several top White House officials on Wednesday said they are working with Congress to pass a sweeping Asia-Pacific trade agreement as quickly as possible, arguing that delaying the deal will damage the U.S. economy.
U.S. Trade Representative Michael Froman said that the Obama administration is canvassing Capitol Hill to build support for the Trans-Pacific Partnership (TPP), a massive trade deal between the United States and 11 other nations along the Pacific Rim, and to determine when is the best time to send the agreement to Capitol Hill.
"We're continuing to consult with Congress, with congressional leadership, with leadership of our committees as to what the most appropriate time for introducing the implementing legislation would be," Froman told reporters on a conference call ahead of President Obama's signing of a customs enforcement measure.
"And we're continuing to build support in Congress, walk through the agreement with members, answer their questions, address issues that have come up from stakeholders and members of Congress to lay the foundation for TPP to be positively considered by Congress when the timing is right," he said.
Jeff Zients, director of the National Economic Council, urged Congress to quickly take up the TPP, stressing that delaying the agreement's implementation will lead to significant costs for the U.S. economy.
"We can't be on the sidelines while our competitors, like China, write the rules of the road for global trade," he said.
"So we're committed to keeping all the options on the table in terms of timing to maximize the chances of securing the support for TPP but at the same time delay is costly," he said.
Zients cited a recent Peterson Institute report on the TPP that said the U.S. economy could see losses on average of $94 billion a year without the deal.
Earlier this week, the president said that he is "cautiously optimistic" that Congress will pass the TPP, while acknowledging that opposition in both parties and presidential politics may slow down the effort.
Obama said he would send the agreement to Congress for a vote "at some point this year."
Senate Majority Leader Mitch McConnell (R-Ky.) is among other leaders who have said that the TPP is unlikely to get a vote until after the November elections.
The remarks by Froman and Zients came ahead of signing of the long-awaited customs enforcement bill at the White House, the fourth major trade measure passed by Congress since last summer.
"Once we've set up trade rules, people have to abide by them," Obama said during the signing. "We can't have other countries cheating, we can't have other countries engaged in practices that disadvantage American workers and American businesses."
Obama touted his administration's efforts to ramp up the enforcement of trade laws aimed at protecting U.S. businesses and workers.
"Overall, this is an example of smart trade policy in the 21st century," he said about the bill.
"We are not going to be able to close our borders. The global supply chain is deeply embedded in everything we do, and our exports produce jobs for Americans in every state … so we want to trade."
The customs bill signed by the president authorizes $15 million for a first-ever trade and enforcement trust fund, provides new tools to counteract currency manipulation and prohibits the import of any products made with child and slave labor.
A new report from the National Economic Council released in conjuction with Wednesday's signing detailed the White House's efforts to wage battle with other nations over their trade policies during Obama's time in office.
Zients said that the NEC report leads to one "unmistakable conclusion" that "President Obama takes enforcing our trade agreements very seriously."
"The president has been very clear that when foreign companies other countries fail to live up to their obligations we won't hesitate to use every tool available to make sure our workers and our businesses are competing on a level playing field," Zients said.
He noted that the president secured a 10 percent increase in funding for continued trade enforcement efforts in the federal budget compromise passed by Congress in December.
The additional funding will be used to crack down on foreign companies that try to undercut U.S. firms and workers, said Zients.
Racheting up the nation's enforcement goes hand in hand with working with Congress to pass the TPP, he said; moving forward, the Obama administration will redouble its efforts to protect U.S. businesses and workers.
"As we keep working to get the TPP passed into law to cut 18,000 taxes and to benefit our workers and our economy we'll also keep working to strengthen our ability to enforce those standards," he said.
Froman called the TPP another chapter in how the nation stays globally competitive and "we want to make sure we can enforce those ground-breaking commitments" in the TPP.
Froman said that TPP differs from trade deals of the past because the pact includes stricter obligations, tougher standards and clearer timelines "that will greatly improve our ability and the ability of future administrations to enforce the agreement."
"In the weeks and months ahead you'll hear more about how we're going to be bolstering our efforts even further to be sure that the groundbreaking intellectual property, workers rights, environmental and other commitments in TPP will be monitored and enforced," he said.
"That's what we've been doing over the course of the last seven years, we're going to continue to back those words with action," Froman said.
Since 2009, the USTR has launched 20 cases with the World Trade Organization (WTO) — more than any other WTO member — and has won all that have been decided so far.
http://thehill.com/policy/finance/270663-white-house-officials-urge-passage-of-pacific-trade-deal?utm_campaign=Contact+SNS+For+More+Referrer&utm_medium=twitter&utm_source=snsanalytics
i support TPP (summary)
TPP generally will be to the advantage of countries that sign onto it because it allows them to excel at their specialty.
Specifically, for the United States TPP could help to rebuild manufacturing in the products we specialize in, such as technology, computer hardware software, and increasingly, automobiles. Really, there's no limit to what United States manufacturing can do if it's geared up.
We just have to watch currency manipulation, keeping things fair. There is an acknowledgment between member countries that it won't be tolerated, as everyone can play that game, except it's not everyone's interest to do so. TPP creates standards by which free trade can be fair trade. Not to mention the trade agreement stands to have Geo political ramifications for the good as countries work closely together to build and maintain stability, generating prosperity for all in route to improvements in freedom, human rights and ultimately, peace.
US trade officials push congress on TPP
US trade officials hope to sell lawmakers on a 12-nation Pacific trade pact that is about to be formally signed in New Zealand, even as US elections look likely to delay congressional action.
"Momentum for passage is growing," US Trade Representative Michael Froman told reporters, pointing to support from US business and agriculture groups for the Trans-Pacific Partnership (TPP).
However, congressional leaders have indicated they will put off a vote on the deal agreed among member countries last year until after November presidential and legislative elections.
Froman said Barack Obama's administration would work with congress to "determine the most conducive pathway" but declined to give a date for legislative action because once the agreement is officially delivered to Congress, a clock begins ticking that requires lawmakers to act.
"It's imperative we move forward," Froman said, pointing to a "significant cost" of delayed action.
Trade ministers from the TPP's partner countries have been invited to formally sign the deal in Auckland on Thursday.
On Tuesday Obama met Republican leaders from both the Senate and House of Representatives on legislative priorities for the year, including TPP passage.
Speaker of the House Paul Ryan said after the meeting that he and Senate Majority Leader Mitch McConnell "also discussed a number of concerns that lawmakers have raised about the substance of TPP that must still be addressed".
The 30-chapter TPP agreement includes elimination and reduction of about 18,000 tariffs on industrial and agricultural goods, including textiles and clothing; rules on trade in services and financial goods; and commitments on the free flow of internet and digital commerce.
It sets out rules for patents, trademarks and other intellectual property across the trade zone, including specific provisions about pharmaceuticals, and enforces labour and environmental standards.
http://www.theaustralian.com.au/news/latest-news/us-trade-officials-push-congress-on-tpp/news-story/e4be5d98ea2f95ea658678e560bc3a0a
McConnell deals blow to Obama TPP hopes
(December 10, 2015 – The Hill)
Senate Majority Leader Mitch McConnell (R-Ky.) on Thursday crushed any hope that Congress could pass a sweeping Pacific Rim trade agreement before the 2016 elections.
McConnell, who has expressed concerns about the 12-nation Trans-Pacific Partnership (TPP) and has yet to take a stance, said President Obama is risking defeat of his signature trade deal if he tries to push for passage before a lame-duck session next year.
"It certainly shouldn't come before the election," McConnell told The Washington Post in an interview.
"I think the president would be making a big mistake to try to have that voted on during the election. There's significant pushback all over the place," he said.
Obama is already facing a slim margin of support in each chamber.
With minimal support from his own party, Republicans who granted Obama fast-track authority on trade deals have said support didn't mean automatic passage for the TPP pact.
"I think it would be a big mistake to send it up before the election," McConnell said.
He also raised the specter that the deal may not get done before Obama leaves office, noting that the next president will have the same fast-track authority granted to Obama this summer.
"The next president, whoever that is, will have the authority to either revisit this one, if it doesn't pass, or finish the European deal or other deals, and give Congress a chance to weigh in on it," McConnell said.
While McConnell has expressed support in the past for trade, he has warned the White House not to target tobacco growers in a final deal.
The deal includes a provision that gives countries more power to regulate manufactured tobacco products, such as cigarettes, as part of any efforts to protect public health. Under the exemption, companies can't challenge tobacco control measures under the Investor-State Dispute Settlement process.
The White House has argued that the tobacco provisions are narrowly focused on health issues and don't affect the trade of tobacco leaf.
But the move has already led to the loss of Republican votes on both sides of the Capitol.
The timeline for when Congress might receive the agreement is fluid.
Many supportive House Democrats have said there is a small window within the first three months of the year where they would feel comfortable voting for the TPP.
But if it can't be done quickly, then lawmakers such as Rep. Gerry Connolly (D-Va.) have said there would be no harm in waiting until the pressure of the elections is off in the lame-duck session.
And McConnell isn't the only Senate Republican throwing a wrench into the works.
Senate Finance Committee Chairman Orrin Hatch (R-Utah), who helped craft the fast-track legislation, has raised major concerns about the deal, especially for the TPP's protections for high-tech medicines called biologics. Pharmaceutical companies pushed for the U.S. standard of 12 years of data protections but got eight.
Hatch said he has met with U.S. Trade Representative Michael Froman and told him that he is willing to work with the White House but that some changes have to be made.
Hatch said Froman seemed open to working on several issues.
http://thehill.com/policy/finance/262896-mcconnell-crushes-hopes-for-tpp-vote-before-the-elections
Trans-Pacific Partnership likely to open markets but may produce tougher import competition, Stanford scholar says
(November 11, 2015 – Stanford Report)
Stanford economist Michael Boskin says the proposed Trans-Pacific Partnership should expand trade and increase growth in the U.S., though some businesses and workers may encounter stiffer competition from imported goods.
American firms, especially those in California, stand to gain if the Trans-Pacific Partnership is enacted, a Stanford economist says.
But as with any trade agreement, some sectors of the economy may initially face tougher competition from imported goods, according to Michael Boskin, the Tully Friedman Professor of Economics and senior fellow at the Hoover Institution.
A proposed trade agreement among 12 Pacific Rim countries (including the United States) and reportedly one of the largest ever, the Trans-Pacific Partnership now awaits its fate by Washington, D.C. lawmakers. Boskin, also a senior fellow at the Stanford Institute for Economic Policy Research, was recently interviewed by the Stanford News Service on this issue:
What benefits would the Trans-Pacific Partnership bring to the U.S. economy, businesses and workers?
Expanded trade leads to higher growth in income, greater efficiency and lower costs and increased variety for consumers. In addition to eliminating many tariffs, the TPP will, if ratified and implemented by the parties with minimal slippage, reduce non-tariff barriers such as excessive red tape and protection of state-owned enterprises; harmonize policies and procedures; and include dispute settlement mechanisms. On balance, that should enable American firms and their workers to expand exports to these markets. California firms and workers, in particular, stand to benefit disproportionally, given the central role the state plays in trade with Asia, from goods and services we export to the flow of goods through our ports.

What are the downsides?
If two (or more) sides willingly agree to trade, both are better off overall, otherwise at least one would refuse to trade. But trade liberalization may initially entail some (smaller) losses for some firms and workers, e.g., facing greater import competition. These should be dealt with through relocation and adjustment assistance, such as our Trade Adjustment Assistance program, and transition rules for affected industries, firms and their workers that allow gradual adjustment.
Some also worry that rather than mostly increasing trade, it will just divert it to members from non-members. Also, that it might harm broad global freer trade negotiations (currently, the Doha Round, an international trade negotiation). The opposite happened with NAFTA – little diversion and a kick-start for the Uruguay Round (also an international trade negotiation).

What is the right level of trade openness in the Pacific region?
The right level of trade openness is debated at least twice a generation. Historically, trade systems have ranged from quite open to substantially closed (by tariffs and non-tariff barriers). But even in "closed" systems, underground or even above ground markets develop owing to large gains from trade. Following an era of open trade, extreme protectionism in the 1930s – the Smoot-Hawley tariff in the U.S., which begat analogues abroad – helped turn a sharp downturn into the Great Depression, the severe suffering from which helped set the stage for World War II. Countries that have substantial trade have a stake in the success of their trade partners, and that has beneficial geopolitical ramifications.
While current levels of protection are far more modest, it's also important to realize that the status quo isn't the current level of non-tariff barriers (which include quotas, embargoes, sanctions and other restrictions).  When trade isn't being liberalized, non-tariff barriers grow like weeds.
So, the right level of trade, among the TPP nations and more generally, is substantial openness, reflecting the basic economic forces generating gains from trade, based on clear rules, enforceable through transparent dispute settlement processes. The U.S. and the world have moved closer to that standard, under presidents of both political parties, since WWII. South Korea is waiting to join the TPP and many expect China will ultimately. That would be good for the TPP, and especially for China, if it helps reduce the power of the state-owned enterprises via rules-based competition. Finally, most trade liberalization has focused on tariffs on goods. Non-tariff barriers and services are just beginning to receive increased attention.
With growth globally slowing or failing to meet expectations, what would the impact of the Trans-Pacific Partnership be among its member countries?
It is estimated that the TPP would generate hundreds of billions of dollars of additional GDP per year for the 12 member countries, and many additional jobs. While all nations would, on balance, benefit, the smaller and developing economies will probably gain the most, relative to their size. These are significant benefits, but because tariffs in the TPP member countries are already low, with exceptions for some specific products, they are modest compared to the gains from some earlier trade liberalizations when tariffs were higher and reduced more.

Do you think it will be ratified in the U.S.? What are the politics involved?
As often in the political process, the concentrated interests that oppose can be more powerful than the diffuse interests in favor. And, of course, the 2016 elections are approaching. Hillary Clinton, the likely nominee for president of the Democrats, has come out against the TPP (she called it the gold standard of trade deals when she was secretary of state, before many improvements were incorporated) and Donald Trump has sworn not only to negotiate "good deals" in the future, but to renegotiate existing trade agreements. Although most of the other Republican contenders are more pro-trade, some are saying they don't trust a deal negotiated by President Obama.
So, I would say ratification is 50-50 and, like NAFTA and the Uruguay Round, may occur after the election. But I wouldn't rule out, if he chooses to do so, a big push by President Obama getting enough Democrats to join most Republicans in passing it before then.
http://news.stanford.edu/news/2015/november/tpp-boskin-trade-111115.html

Trans-Pacific Partnership: the case for trade
(October 30, 2015 – theguardian)
Following the conclusion of the Trans-Pacific Partnership by 12 Pacific rim countries, debates about the costs and benefits of trade liberalisation are intensifying. The early leaders in the US presidential campaign – both the Republican Donald Trump and the Democrat Hillary Clinton – have expressed opposition to the TPP, though as secretary of state, Clinton called it the "the gold standard of trade deals".
The right level of trade openness is not a new debate. Historically, trade systems have ranged from rather open to severely restricted by rules, tariffs, or non-tariff barriers, driven by shifts in the relative strength of liberalising or protectionist economic and political forces. But even in closed systems, however severe the penalties they impose on trade, parallel markets usually develop, owing to the "gains from trade" generated by natural economic forces.
The desire to trade arises whenever the domestic benefits of importing a good (whether a finished product or component) exceed the price paid – for example, if the imported good cannot be produced domestically, or only at a higher cost. As the British economist David Ricardo demonstrated two centuries ago, it can even be better for a country to import goods that it can produce more cheaply, if doing so enables the production of other goods that are still cheaper to produce. Additional gains from trade include increased variety and the economies of scale implied by producing for global markets.
There are potential downsides to trade. Alexander Hamilton, the first US treasury secretary, argued that allowing lower-cost imports would impede the development of domestic "infant" industry, which needed time to scale up enough to reduce costs to a competitive level. In recent decades, the anti-trade argument has focused largely on "unfair" competition and economic dislocation.
But the reality is that, if two sides willingly trade, it can be assumed that both are better off; otherwise, one of them would refuse to trade. So, while trade liberalisation may entail some (smaller) losses for certain groups, these can – and should – be addressed through domestic relocation and assistance schemes, such as America's Trade Adjustment Assistance programme, and transition rules for affected industries, firms, and workers.
Past experience reinforces the view that, ultimately, voluntary trade is a good thing. Extreme protectionism in the early 1930s, following an era of relatively free international trade, had devastating consequences, ultimately setting the stage for the second world war. As the MIT economist Charles Kindleberger showed, America's Smoot-Hawley tariff, in particular, helped to turn a deep recession into a global depression.
Even before the war was over, major powers convened in Bretton Woods, New Hampshire, to establish a new international trade and finance regime, including the General Agreement on Tariffs and Trade. Through a succession of lengthy and difficult global negotiations – the so-called "GATT rounds" – tariffs were steadily lowered for an increasing variety of goods. As a result, global trade grew faster than world GDP for most of the postwar period.
Virtually all economists agree that this shift toward freer trade greatly benefited the world's citizens and enhanced global growth. The economists Jeffrey Frankel and David Romer estimate that, in general, trade has a sizeable positive effect on growth.
At a time when growth is failing to meet expectations almost everywhere, the TPP thus seems like a good move. To be sure, because tariffs in the TPP member countries are already low (with some exceptions, such as Canada's tariffs on dairy products and Japan's on beef), the net benefit of eliminating them would be modest (except for a few items that are very sensitive to small price changes). But the TPP is also expected to reduce non-tariff barriers (such as red tape and protection of state enterprises); harmonise policies and procedures; and include dispute-settlement mechanisms.
Though the TPP's precise provisions have not been made public, political leaders in the member countries predict that the deal, once ratified and implemented, will add hundreds of billions of dollars to their economies and bolster employment. Smaller and developing economies will probably gain the most, relative to size, but everyone will benefit overall.
Other important outcomes are not included in these calculations. The alternative to liberalising trade is not the status quo; it is a consistent move away from openness. This can occur in a number of ways, such as the erection of non-tariff barriers that favor domestic incumbents at the expense of lower-priced potential imports that would benefit consumers.
Moreover, it is much easier to build mutually beneficial trade relationships than it is to resolve military and geopolitical issues, such as combating the Islamic State or resolving tensions in the South China Sea. But strong trade relationships have the potential to encourage cooperation – or, at least, discourage escalation of conflict – in other, more contentious areas.
Still, there are some legitimate concerns about the TPP. Some worry that it could divert trade from non-member countries or undermine the moribund Doha round of multilateral trade negotiations (though 20 years ago, the North American Free Trade Agreement had the opposite effect, kick-starting the Uruguay round).
Given all of this – not to mention renewed attention to national borders, owing to contentious immigration issues, such as the influx of Middle Eastern refugees in Europe – the TPP's ratification is far from certain, especially in the US. The concentrated interests that oppose the agreement may turn out to be more influential than the diffuse interests of all consumers.
That would be a major loss. Allowing existing protectionist trade barriers to remain in place – or worsen – would not only deprive citizens in TPP countries of higher incomes; it would also deal a damaging blow to international cooperation.
http://www.theguardian.com/business/2015/oct/30/tpp-trans-pacific-partnership-the-case-for-trade
Obama Administration Says China Not Manipulating Currency
(October 19, 2015 – Associated Press)
The Obama administration said Monday that China's currency remains undervalued in relation to the U.S. dollar but it did not cite the country for unfairly manipulating its currency to gain trade advantages.
In a new Treasury Department report, the administration noted that China sent global markets plunging in August with a surprise devaluation of the yuan. Since then, China's currency, also known as the renminbi, has fallen 2.3 percent against the dollar.
Treasury said it will be important going forward for China to allow its currency to again rise in value against the dollar when market forces dictate such a move.
The report, which Treasury is required by law to submit to Congress twice a year, did not charge any country with unfair currency manipulation. Such a designation could ultimately lead to trade sanctions.
Treasury's latest report stood in contrast to the previous report in April and several before that in which the administration said it believed that China's currency was "significantly undervalued." In the new report, the administration softened its language to say that China's currency "remains below its appropriate medium-term valuation."
American manufacturing companies complain that China is still manipulating its currency to gain trade advantages and their supporters in Congress have pushed the administration to take a tougher stand. They are closely watching to see what type of guarantees the administration was able to negotiate in the recently completed 12-nation Trans-Pacific Partnership trade agreement.
In an interview before the report was released, Treasury Secretary Jacob Lew said that there was still room for China's currency to appreciate once the country gets past some of its immediate economic problems.
"Right now there is downward pressure on the (yuan), some of it as a result of the policies (China) made and the way they announced them over the summer," Lew said in an interview with CNBC.
The report also said that South Korea's currency, the won, is undervalued, falling by 7.7 percent over the past year against the dollar. The report repeated a past recommendation that the South Korean government should limit its intervention in currency markets to periods when trading was disorderly. It said South Korea also needs to be more transparent in telling financial markets when it was intervening.
The report said that global growth has been modest so far this year with activity in European countries that use the euro currency "highly uneven and too soft overall." It noted high unemployment in Spain and Greece and large current account trade surpluses in countries such as Germany.
The report said countries with large current account surpluses should take strong action to boost investment and domestic demand.
Treasury has not accused any country of unfairly manipulating its currency for trade advantages since the Clinton administration labeled China a currency manipulator in 1994. Such a designation would trigger a period of discussions to try to resolve differences and if those failed, the U.S. could try to win approval from the World Trade Organization to impose economic sanctions.
http://www.usnews.com/news/business/articles/2015/10/19/obama-administration-says-china-not-manipulating-currency
Throwback Thursday: Currency Manipulation Has Emerged as the Big Sticking Point on Trade


(May 12, 2015 – The Wall Street Journal)
The deepest and most difficult divide in the congressional trade fight has little to do with tariffs, workers or U.S. policy. Instead, it's all about exchange rates.
Key lawmakers from both parties are insisting on finding a way to punish other countries—or firms based in those countries—for alleged currency manipulation carried out in foreign capitals.
Sen. Chuck Schumer (D., N.Y.) and other lawmakers in the House and Senate say President Barack Obama and Republicans shouldn't pass trade legislation needed to expedite an agreement spanning the Pacific without also allowing a vote on binding rules on currency manipulation.
With tariffs already low, these lawmakers say other countries—especially in Asia—can gain an unfair trade advantage by cheapening their currencies, wiping away any gains from trade agreements.
The Obama administration has sought to deflect such binding rules, saying they risk souring trade talks or putting U.S. monetary policy under scrutiny. So has the Federal Reserve.
After a dramatic debate in the Senate Finance Committee last month, lawmakers defeated an amendment offered by Sen. Rob Portman (R., Ohio) and backed by Ford Motor Co.F +0.74% would have pressed the administration to negotiate currency rules in the Trans-Pacific Partnership, the negotiations Mr. Obama is seeking to include with 11 other countries around the Pacific.
But Mr. Schumer's amendment survived a vote and was attached to a customs bill introduced alongside "fast track" trade legislation. The currency measure would allow U.S. industry to demand the U.S. government impose punitive duties on rivals determined to have benefited from currency manipulation.
On Tuesday, Senate Majority Leader Mitch McConnell moved to open debate on fast track and another bill, but not the customs legislation with the currency amendment.
The handful of Democrats who back Mr. Obama's trade policy cried foul, and blocked Mr. McConnell's motion, largely on the grounds that it didn't contain key trade enforcement provisions in the customs bill. Some also wanted the currency language.
Mr. Schumer, who opposes fast track and the TPP deal, said if the currency measure he backs makes it to the floor it will be hard to remove, since it enjoys bipartisan support.
The currency measure isn't included in the trade bills in the House, and some observers said it could be stripped from the trade package at some point. Still, congressional leaders are under pressure to allow a currency vote at some point.
The Obama administration backs another currency amendment, introduced by Sen.Michael Bennet (D., Colo.) that steers U.S. policy on currency manipulation a broad but doesn't mandate binding trade rules. U.S. officials are also considering transparency rules in the TPP that could deter currency shenanigans.
But critics of Mr. Obama's policy say much of the hubbub on trade this week comes from the failure of the administration and key leaders in Congress to lay out a clear path on currency, despite evidence lawmakers aren't going to back down.
http://blogs.wsj.com/economics/2015/05/12/currency-manipulation-has-emerged-as-the-big-sticking-point-on-trade/ wall street journal
While China isn't a party
(September 17, 2015 – popularinitiative.org)
The Trans-Pacific Partnership could be just the thing to address currency manipulation.
Senators: Address China Currency Manipulation in TPP
(September 15, 2015 – Roll Call)
With Chinese President Xi Jinping due at the White House next week, seven senators are making a new push against currency manipulation.
The lawmakers, led by Republican Rob Portman and Democrat Sherrod Brown of Ohio, want to see currency devaluation addressed as part of the ongoing Trans-Pacific Partnership trade talks, citing recent moves by both Vietnam and South Korea in response to China's adjusting the value of its currency, the yuan.
"We fear these recent currency interventions could lead to a pattern of competitive devaluation within the Asia-Pacific that could hurt U.S. workers and exports for years to come. Therefore, it is extremely important that TPP addresses currency issues in meaningful and concrete ways," the senators wrote to Treasury Secretary Jacob J. Lew and U.S. Trade Representative Michael Froman, obtained first by CQ Roll Call.
The senators express concern that Senate aides are hearing there has not been significant headway made in addressing currency as part of the trade talks, though the White House said on Sept. 3 that it was seeking currency enforcement legislation. The most likely vehicle for that would be a customs bill that's still pending on Capitol Hill that was passed in different forms as part of the Trade Promotion Authority debate earlier this year.
The group behind Tuesday's letter is a mix of supporters and opponents of the "fast-track" trade authority that became law earlier this year. It provides an expedited process for considering TPP if and when a final agreement is reached among the participating countries from the Pacific rim.
Portman, a former trade representative, has faced perhaps more criticism than any other Republican senator for his support of the expedited process for considering trade deals, from the Ohio Democratic Party and others. Brown has been an outspoken opponent of the trade agenda of President Barack Obama, which moved through Congress with largely Republican votes.
Portman and Brown were joined in the effort by GOP Sens. Richard M. Burr of North Carolina,Lindsey Graham of South Carolina, Charles E. Grassley of Iowa and Jeff Sessions of Alabama, as well as Michigan Democratic Sen. Debbie Stabenow.
"[A]s China's recent devaluation demonstrated, these interventions can have significant and immediate global economic impacts. Thus, currency issues must be addressed seriously, aggressively, and promptly. Recent comments by foreign TPP negotiators to Senate staff members suggest very little progress has been made on this issue," the senators wrote. "We would appreciate your perspective as to the impact these devaluations are having on US workers and your efforts to address them in the continuing TPP negotiations."
Last week, Stabenow joined the two Ohio senators on a separate letter to Froman calling for the TPP agreement to address needs of U.S. automakers.
http://blogs.rollcall.com/wgdb/senators-address-china-currency-manipulation-in-tpp/?dcz=
Obama's trade agenda moves past key Senate hurdle
(June 23, 2015 – Washington (CNN)
The President's trade agenda scored a major victory Tuesday when the Senate voted to advance a bill to allow "fast-track" approval of large international trade bills.
The outcome of this key procedural vote had been in doubt as a group of 14 pro-trade Democrats weighed whether to continue their support of the bill out of concern that a related workers' assistance package might not pass both chambers.
But after repeated assurances by GOP congressional leaders that workers' assistance measure will be adopted, 13 out of 14 backed the bill.
The vote was 60 to 37, passing by the slimmest margin needed to pass.
A final Senate vote on fast-track could come as soon as later Tuesday, and it will then head to President Barack Obama's desk for his signature.
The vote was especially close as one Republican who supported the measure in the past — Texas Sen. Ted Cruz — said Tuesday morning he would now vote against it.
"… TPA in this Congress has become enmeshed in corrupt Washington backroom deal-making, along with serious concerns that it would open up the potential for sweeping changes in our laws that trade agreements typically do not include," Cruz wrote on Breitbart.
Republican Sen. Mike Enzi of Wyoming, who was absent during the first version of the bill, voted in favor, making up for the loss among GOP senators.
RELATED: Hillary Clinton a 'no' on fast-track for now
The 14 pro-trade Democrats who supported the first version of the fast-track bill, known as Trade Promotion Authority, when it was packaged with a bill that provides retraining and other assistance to workers who lose their jobs because of large international trade agreements. That bill is called Trade Adjustment Authority.
Passage of the fast-track authority and the workers' assistance bill allows the President to complete a giant Trans-Pacific Partnership trade deal, which would tie the economies of the U.S., Canada and Mexico with several Asian and Pacific nations. Such a deal would also give the U.S. increased influence in the region — a top priority for the White House.
All the way up until the final vote, it was uncertain whether those Democrats would support the fast-track bill separately from the workers' assistance piece — as the new legislative strategy calls for — out of fear stand-alone workers' assistance measure won't get through the GOP-controlled Congress on its own. Trade Adjustment Authority is generally supported by Democrats — and unions — and opposed by Republicans. But in a recent legislative tactical move, House Democrats skeptical of fast-track authority recently blocked the trade adjustment portion in hopes of scuttling the fast-track bill.
McConnell went to great lengths Monday to assure reluctant Democrats both bills would get to the President's desk.
"I didn't want anyone to think that we are getting (fast-track) done this week with a promise to get (trade adjustment) done at some later undefined point," he said. "The process this week is clear: We will vote on (fast-track) and then we will vote on (trade adjustment)."
RELATED: House passes trade authority bill
Sen. Ron Wyden of Orego is a co-author of the fast-track legislation, but held back his support until Monday in an effort to ensure trade adjustment portion and two other related bills will get through. He said he was able to convince Republican leaders to add a measure, supported by Democrats and some Republicans, that would boost U.S. steel companies.
"I held round-the-clock discussions with the Senate majority leader, the speaker of the House and leading Democrats over the past week," Wyden said. "I plan to support the continued advancement of the trade package tomorrow."
Another, Sen. Dianne Feinstein, D-California, said she would vote to advance the bill because expanded trade "helps California and the country as a whole."
If the fast-track authority bill reaches final passage, it would go directly to Obama for his signature, because the House already approved it. The Senate would then take up the worker assistance bill, which is attached to a popular Africa trade measure, with a key procedural vote expected Wednesday and final passage by Thursday.
Assuming the trade adjustment measure passes the Senate, the bill would be sent to the House where Democrats would have to consider whether it still makes sense to defeat it. The last time, Democrats were motivated to vote it down in order to block the fast-track authority. This time, that authority will already be on the President's desk — if everything goes according to plan — so voting "no" would only hurt the displaced workers Democrats say they want to help.
House Democratic Leader Nancy Pelosi expressed skepticism on Friday that the bill providing assistance and training to displaced workers could move forward under the new legislative strategy.
"I don't see a path for (trade adjustment)," she said.
But other Democratic leaders, such as Rep. Steve Israel of New York, said recently it would be "cutting off our noses to spite our face," if they voted against the Trade Adjustment Authority at this point.
"It's cutting off noses of working people," he said.
If the Senate approves the trade adjustment bill, a vote in the House is expected by Friday.
http://www.cnn.com/2015/06/22/politics/obama-trade-deal-congress-tpp-tpa/index.html
Checks & Balances in World Trade
(June 17, 2017 popularinitiative.org)
The Trans-Pacific Partnership, along with similar trade deals, needs to promote & preserve the economic democracy of the people as a lever to ensure their liberty & equality, and so should be transparent above all. Influence in a region is better if it ensures the influence of the people and their elected representatives first and foremost.
How secretive is the Trans-Pacific Partnership?
(June 11, 2015 – Washington (CNN)
Two copies of the biggest free trade deal in history are sitting in reading rooms — one at each end of the Capitol.
The document is classified. Only members of Congress and staffers with security clearance can access it. And they can't make copies or even carry their own handwritten notes out the door.
This is how trade negotiations work. Fearful that they'll undercut their own negotiators, leaders of the countries involved don't want the details of what they're hashing out revealed until the full package is completed. And it's at the heart of the biggest criticism opponents of the deal have made publicly: the secrecy surrounding it.
RELATED: Obama trade agenda in jeopardy as Hill Dems feud
"I've worked with the Clinton administration and I've worked with the Bush administration. And this administration is more secretive," said Thea Lee, the deputy chief of staff for the AFL-CIO, which is spearheading the left's opposition to the deal — even though it's being negotiated by a Democratic administration under President Barack Obama.
The pressure for more details to be made public isn't just coming from the deal's opponents. WikiLeaks recently announced a $100,000 bounty for the Trans-Pacific Partnership's negotiating text — an offer that comes after the organization has published several of the deal's chapters and proposals over the last two years.
A massive deal
The Trans-Pacific Partnership is a 12-nation deal that would link 40% of the world's economy — including the United States, Japan, Australia, Canada and Mexico.
The United States has been involved in the negotiations since early in Obama's first term. But all that work could be undone if a key vote to put the deal on the so-called "fast track" doesn't go the administration's way in the House on Friday.
Lawmakers are set to vote on Trade Promotion Authority. It's a measure that greases the legislative skids for the Trans-Pacific Partnership by guaranteeing it an up-or-down vote with limited debate and no amendments — as long as a list of Congress's negotiating objectives are met.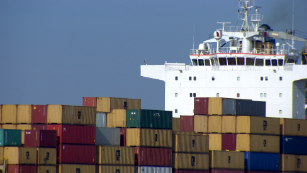 PLAY VIDEO
That bill looks set for a close vote, with most Democrats opposed to advancing another trade deal that they fear could cost jobs and drive down wages, and some conservatives hesitant to hand Obama any new authority and angry that the legislation also includes aid for displaced workers. Thursday afternoon, the House voted 217-212 to approve a rule to move forward on votes for both measures. The final tally was closer than anticipated because a number of Republicans voted against the rule, requiring eight Democrats to vote yes.
The deal's support comes from the business community — including the National Association of Manufacturers' President Jay Timmons, who on Thursday called it a "simple decision."
"Vote in support of TPA and expand opportunities for manufacturers to sell our products overseas, increase global competitiveness and fuel our ability to grow and create jobs," he said, "or vote to keep manufacturers on the sidelines and at a global disadvantage."
While that vote has dominated Washington's focus in recent days, most Americans know little about the deal that could be put on the fast legislative track.
Difficult to understand
And even if Americans could review the deal, it wouldn't make much sense. Active trade negotiated texts are blanketed with brackets and extra sentences saying, in a short-form decipherable only to experienced hands, which points, lines and even words are opposed by some countries, or favored by others.
Obama said in a late April interview with The Wall Street Journal that the deal will be available for all to review — once it's done.
"There are going to be many months in which people will be able to look at every comma and period and semicolon in this deal," he said. "And I feel very confident that when people evaluate the actual deal that is done, that they will see that, in fact, it is the most progressive trade deal in history."
But in the meantime, trade negotiators themselves are barred from sharing the details of the negotiating text. Countries involved in the talks make confidentiality pacts before the negotiations start, knowing that revealing one side's movement before it's clear what that country is getting in exchange can set off the sorts of political alarms that can grind talks to a halt.
Several hundred representatives of major corporations, labor unions and others also get more access than the general public.
They serve on advisory committees created by Congress that get access to U.S. proposals — though not the full negotiating text, which is summarized for them. Those advisory committees were expanded under the Obama administration to include liberal interests that hadn't been invited to the committees' sessions in the past.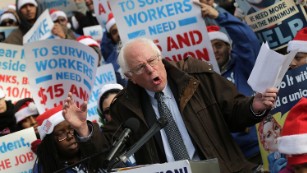 PLAY VIDEO
"The Obama administration has grown the size and membership of the advisory committees that Congress established to add voices that were initially left out of the process, including labor and environmental advocates," said Matthew McAlvanah, a spokesman for U.S. Trade Representative Michael Froman.
RELATED: Democrats blast unions' pressure tactics on trade
"These advisers receive access to U.S. negotiating proposals and work with our negotiators in an interactive process that includes regular updates on the negotiations, the opportunity to review U.S. proposals before they are tabled, and the chance to provide meaningful input into negotiating proposals and decisions," he said.
But those committees are bound by confidentiality agreements, too. That means labor officials like AFL-CIO President Richard Trumka and two of his advisers, including Lee, know what the United States is pushing, but can't tell their members.
"A summary, to be honest, is almost completely useless. It's a summary," Lee said. "If you're used to reading these trade agreements, the devil is absolutely in the details. You want to know: What are the qualifications? What are the exceptions? What's in the actual language?"
Froman's office points out that American trade officials have held more than 1,600 briefings on the deal — spending countless hours on Capitol Hill going over its details, with Froman personally meeting with Democratic Sen. Elizabeth Warren of Massachusetts, one of the deal's most strident critics.
U.S. negotiating goals have been publicized on the trade representative's blog, which includes in-depth summaries, recaps of negotiating rounds and more.
Congress takes interest
It's only in recent months, though, that Congress has taken increased interest in the negotiations.
From 2012 through March 2015, Froman's office kept the negotiating text of the deal itself and provided briefings to every lawmaker that requested one. In that time period, three senators and 40 House members took them up on the offer.
Once Democratic opposition increased, Froman's office — at the behest of House Minority Leader Nancy Pelosi — moved the text into reading rooms at the Capitol, where it's available to lawmakers any time they want to review it.
But members of Congress have howled that the text is so dense, and riddled with jargon, that their trade staffers should be able to leave with it and review it.
The briefings have extended to the private sector, too.
The AFL-CIO's Lee acknowledged that trade negotiators have made an effort.
"No question: There are a lot of hours of briefings that labor has gotten," she said. "But there's a difference between counting the hours and listening to what we've said. They could assign an intern to sit with me for 1,000 hours, but if they didn't take what I said, then it doesn't do me any good.
"Nobody's talking about that. Nobody's keeping a log of the minutes or the hours," Lee added. "Our government doesn't even take what we say and put it on the table."
http://www.cnn.com/2015/06/11/politics/trade-deal-secrecy-tpp/
Just How Big Is The Asia Trade Deal Obama Wants? It's A Beast
(May 26, 2015 – NPR)

One of the most basic facts about the Trans-Pacific Partnership is also the most important: It's huge.
The trade deal got over a big hurdle Friday when the Senate voted in favor of giving the Obama administration "fast-track" authority to negotiate the deal with Canada and 10 Asian nations.
That leaves the U.S. House, and it's unclear it has the votes yet. If it passes, though, TPP, which has angered many in the president's party, would be by far the largest free trade agreement the U.S. has in effect.
Trans-Pacific Partnership Would Be The United States Largest Free Active Trade Agreement
The 12 nations involved in TPP make up about 36 percent of global gross domestic product, or GDP, according to data from the International Monetary Fund. That sets the TPP well apart from the 14 free trade agreements the U.S. currently has in effect with 20 countries (to be fair, the U.S. accounts for nearly 23 percent of global GDP by itself).
Not only that, but these nations together account for about one-third of global trade, according to the Brookings Institution.
So the TPP stands apart from other trade agreements in its size. But that's only one dimension of its impact. Another way the TPP is gargantuan is tougher to quantify in a bar graph: its scope. It not only covers basic trade issues like tariffs, but also a variety of other areas like labor and environmental and intellectual property.
The size and scope of TPP matter because they are at the center of the debate. The Obama administration sees the deal's broad reach as positive — the agreement, the administration says, will open up the U.S. to all kinds of new markets and business.
Agribusiness companies, for example, are excited about having new avenues for their products. The labor and environmental provisions, the administration also argues, will force other nations to up their game on those issues, "leveling the playing field."
Not only that, but the TPP's size is all the more important for the one economic superpower that isn't included in it: China. One of the administration's top arguments for the deal is that in negotiating TPP, it "writes the rules" for trade with a large swath of eastern Asian countries before China can with its own trade agreements.
But opponents, like Sen. Elizabeth Warren, D-Mass., worry about the sweep of the deal. Leaked chapters have intellectual property advocates, like the Electronic Frontier Foundation, worried it goes too far in areas like extending copyright laws and fair use rules. Doctors Without Borders has also arguedthe deal could make for more expensive generic drugs, restricting access to medicine for some consumers.
However, some wish the pact went further — environmental groups like the Sierra Club, for example, believe the provisions won't do enough to address overfishing.
But then, no one outside members of Congress, negotiators and a small group of cleared individuals has access to the pact, so it's hard to know exactly how far it will (or won't) go. And that is perhaps the source of the most tension in the TPP debate: that such a big deal is being negotiated behind closed doors.
If Congress grants the administration fast-track (also known as Trade Promotion Authority), it will mean two to four months for public comment before Congress gives the deal an up-or-down vote, with no amendments or debate.
The administration argues that this is unprecedented transparency for a trade deal. Opponents, however, believe it would be too little, too late in what has now been a seven-year negotiating process.
Deal Reached on Fast-Track Authority for Obama on Trade Accord
(APRIL 16, 2015 – New York Times)

WASHINGTON — Key congressional leaders agreed on Thursday on legislation to give President Obama special authority to finish negotiating one of the world's largest trade accords, opening a rare battle that aligns the president with Republicans against a broad coalition of Democrats.
In what is sure to be one of the toughest fights of Mr. Obama's last 19 months in office, the "fast track" bill allowing the White House to pursue its planned Pacific trade deal also heralds a divisive fight within the Democratic Party, one that could spill into the 2016 presidential campaign.
With committee votes planned next week, liberal senators such as Sherrod Brown of Ohio are demanding to know Hillary Rodham Clinton's position on the bill to give the president so-called trade promotion authority, or T.P.A.
The deal was struck by Senators Orrin G. Hatch of Utah, the Finance Committee chairman; Ron Wyden of Oregon, the committee's ranking Democrat; and Representative Paul D. Ryan, Republican of Wisconsin and chairman of the House Ways and Means Committee. It would give Congress the power to vote on the more encompassing 12-nation Trans-Pacific Partnership once it is completed, but would deny lawmakers the chance to amend what would be the largest trade deal since the North American Free Trade Agreement of 1994, which President Bill Clinton pushed through Congress despite opposition from labor and other Democratic constituencies.
While supporters have promised broad gains for American consumers and the economy, the clearest winners of the Trans-Pacific Partnership agreement would be American agriculture, along with technology and pharmaceutical companies, insurers and many large manufacturers that say they could also expand United States' exports to the other 11 nations in Asia and South America that are involved.
President Obama embraced the legislation immediately, proclaiming "it would level the playing field, give our workers a fair shot, and for the first time, include strong fully enforceable protections for workers' rights, the environment and a free and open Internet."
"Today," he added, "we have the opportunity to open even more new markets to goods and services backed by three proud words: Made in America."
But Mr. Obama's enthusiasm was tempered by the rancor the bill elicited from some of his strongest allies. To win over the key Democrat, Mr. Wyden, the Republicans agreed to stringent requirements for the deal, including a human rights negotiating objective that has never existed on trade agreements.
The bill would make any final trade agreement open to public comment for 60 days before the president signs it, and up to four months before Congress votes. If the agreement, negotiated by the United States trade representative, fails to meet the objectives laid out by Congress — on labor, environmental and human rights standards — a 60-vote majority in the Senate could shut off "fast-track" trade rules and open the deal to amendment.
To further sweeten the deal for Democrats, the package includes expanding trade adjustment assistance — aid to workers whose jobs are displaced by global trade — to service workers, not just manufacturing workers. Mr. Wyden also insisted on a four-year extension of a tax credit to help displaced workers purchase health insurance.
Both the Finance and Ways and Means committees will formally draft the legislation next week in hopes of getting it to final votes before a wave of opposition can sweep it away. "If we don't act now we will lose our opportunity," Mr. Hatch said.
At a Senate Finance Committee hearing Thursday morning, Jacob J. Lew, the Treasury secretary, and Michael Froman, the United States trade representative, pleaded for the trade promotion authority.
"T.P.A. sends a strong signal to our trading partners that Congress and the administration speak with one voice to the rest of the world on our priorities," Mr. Lew testified.
Even with the concessions, many Democrats sound determined to oppose the president. Representative Sander Levin of Michigan, the ranking Democrat on the House Ways and Means Committee, condemned the bill as "a major step backward."
The A.F.L.-C.I.O. and virtually every major union — convinced that trade promotion authority will ease passage of trade deals that will cost jobs and depress already stagnant wages — have vowed a fierce fight. The A.F.L.-C.I.O. announced a "massive" six-figure advertising campaign to pressure 16 selected senators and 36 House members to oppose fast-track authority.
"We can't afford to pass fast track, which would lead to more lost jobs and lower wages," said Richard Trumka, president of the A.F.L.-C.I.O. "We want Congress to keep its leverage over trade negotiations — not rubber-stamp a deal that delivers profits for global corporations, but not good jobs for working people."
In all, the bill sets down 150 negotiating objectives, such as tough new rules on intellectual property protection, lowering of barriers to agricultural exports, labor and environmental standards, rule of law and human rights. Reflecting the modern economy, Congress would demand a loosening of restrictions on cross-border data flow, an end to currency manipulation and rules for competition from state-owned enterprises.
Businesses and business lobbying groups lined up behind the bill as fast as liberal groups and unions arrayed in opposition. "With facts and arguments, we'll win this trade debate and renew T.P.A.," vowed Thomas J. Donohue, president of the U.S. Chamber of Commerce.
But a sizable minority of Republicans — especially in the House — are reluctant to give the president authority to do anything substantive. Whether Republican leaders can get their troops in line, and how Mr. Obama can round up enough Democratic votes, might be the biggest legislative question of the year.
Mr. Reichert, the Republican lawmaker, said 20 or fewer Democrats currently support the measure in the House; last year, House Speaker John A. Boehner of Ohio said he would need 50.
Senator Charles E. Schumer of New York, the third-ranking Democrat, said he will demand the inclusion of legislation to combat the manipulation of currency values, especially by China. "China is the most rapacious of our trading partners, and the stated goal of this deal is to lure these other countries away from China," Mr. Schumer said. "It's not at all contradictory to finally do something with China's awful trade practices."
Mr. Brown said the negotiating objectives must be turned into solid requirements. "I don't think negotiating objectives without more enforcement mechanisms get you very far," he said. "Negotiating objectives are, 'Hey U.S.T.R., try to get this,' and they'll say, 'We tried.' We need something better than that."
Others appeared dead set against the accord.
"Over and over again we've been told that trade deals will create jobs and better protect workers and the environment," said Senator Bob Casey, Democrat of Pennsylvania. "Those promises have never come to fruition."
http://www.nytimes.com/2015/04/17/business/obama-trade-legislation-fast-track-authority-trans-pacific-partnership.html
A trade deal must work for America's middle class
(March 8, 2015 – Financial Times)
The view is that trade and globalisation have increased inequality in the US
Over the next few months the question of US participation in the Trans-Pacific Partnership trade deal is likely to be resolved one way or the other. It is, to put it mildly, a highly controversial issue. Proponents believe a deal is essential for both our economic and geopolitical interests; opponents fear it will benefit corporate interests and the wealthy at the expense of middle-class living standards.
Definitive judgment is not possible because the parties are still negotiating and we have not yet seen a final agreement. Our negotiators should never forget that those who "need" agreements get less good ones than those who do not. The US economy is certainly capable of prospering without an agreement. And lack of global profit opportunities for US headquartered corporations is far from one of our economy's most pressing problems. Nonethe less I believe that the right TPP is very much in the American national interest.
But increases in the extent of US trade are driven largely by technology and by the increased sophistication of developing country economies — not by trade agreements. The US, for example, has had no new trade arrangements with India for 20 years. Yet the dollar volume of trade between the two countries has increased ninefold.
Arrangements such as TPP have the potential to tilt the gains from trade towards the American middle class. This is due to the fact that the US has been a very open market for a long time. It means that properly negotiated trade agreements bring down foreign barriers and promote exports to a much greater extent than they reduce American barriers and benefit imports. Additionally, they reduce pressure for outsourcing.
Crucially, TPP is necessary to let American producers compete on a level playing field, given the proliferation of arrangements that do not include the US. Currently, for example, Japanese and Southeast Asian producers get better terms in each others' markets than the US does. Only through TPP do we have the chance to manage international competition in the interests of American workers through binding arrangements in areas such as labour and environmental standards.
So TPP should be judged not against a hypothetical past world where American workers did not face foreign competition but in the context of a world where trade integration in Asia is happening, with or without the US. Its merit will depend on US negotiating priorities.
Some matters that are pushed by elements of the business community have little or nothing to do with the interests of the vast majority of American workers. These include pressuring other countries to change health and safety regulation, to extend and strengthen patent protection and to deregulate financial services. In these areas on grounds of fairness it is reasonable for us to strive for the principle of national treatment — no discrimination against foreign firms — but not to use inherently scarce negotiating power to alter other countries' basic choices.
Conversely, it is appropriate in TPP, and our international economic diplomacy more generally, that we use the substantial leverage we possess in areas that do bear directly on middle-class living standards. These include the prevention of inappropriate producer subsidies — including through manipulated exchange rates or distorted state enterprise accounting. And, more generally, co-operation to ensure that a world in which the greater mobility of capital and of companies does not become one in which governments lose the ability to protect citizens. If global integration means local disintegration it will be a failure.
Any international agreement must in the end be judged not just against our aspirations, but against our alternatives.
No plausible TPP agreement will achieve all that we want. But it should be possible to negotiate an agreement that is better than the alternative of growing trade shaped only by agreements that exclude the US. I hope and expect that TPP when presented for approval will meet this test.
The writer is Charles W Eliot university professor at Harvard and a former US Treasury secretary
http://www.ft.com/intl/cms/s/2/43920bae-c3f3-11e4-9019-00144feab7de.html#ixzz3YWlWxU9g